India needs Biden to End Trump's China Provocation
High-decibel Pompeo in Delhi as new defense agreement signed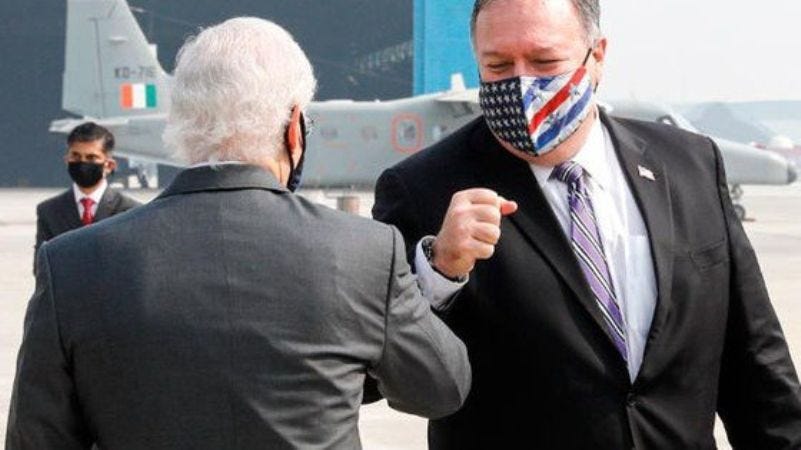 By: John Elliott
India needs flexibility to rebuild its fractured relationship with China, but the Trump administration is restricting the options with high-decibel confrontational statements about uniting against Chinese aggression. For this reason if for no other, a Joe Biden victory in next week's presidential election would be good for India and, ultimately, good for Asia which does not benefit from the China-India conflict.
The risks of a fresh Trump presidency exacerbating relations between the two nuclear neighbors have been demonstrated in the past two days by Mike Pompeo, the US Secretary of State, who declared during a high-profile visit to Delhi that "the United States will stand with the people of India as they confront threats to their sovereignty and to their liberty."
The "2+2" media conference at Delhi's Hyderabad House
Pompeo was accompanied for what is known as a "2+2 dialogue" by Mark Esper, the US defense secretary, who signed a long-delayed defense cooperation agreement that enables India to share sensitive American intelligence such as maps and satellite images that should boost the accuracy of missiles, armed drones and other military action along its 3,488-km undefined border with China (known as the Line of Actual Control – LAC).
The agreement is the latest development in what is now called the India-US Comprehensive Global Strategic Partnership that was begun by President Clinton nearly 20 years ago when the first of four defense "foundational agreements" were signed. The four now cover information exchange, logistics sharing, and access to communications equipment as well as this week's agreement.
---
The text above is just an excerpt from this subscriber-only story. To read the whole thing and get full access to Asia Sentinel's reporting and archives, subscribe now for $100/year.